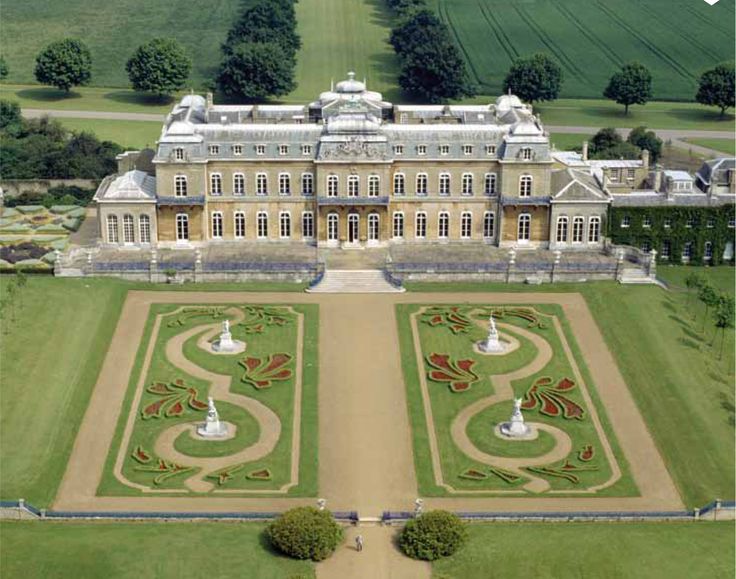 My thanks to everyone who responded so favorably to the first installment of Anderson Architectural Antecedants about the English homes of William Waldorf Astor.  
In what I hope will become an ongoing and perhaps weekly feature, today I present Wrest Park in Silsoe, Bedforshire, England.  At the time of the Andersons' visit in early December 1911, it was the country home of the American Ambassador to the Court of St James, Whitelaw Reid, who Larz had first met in 1891.  What follows is Larz Anderson's own account of their visit to one of England's most magnificent country homes.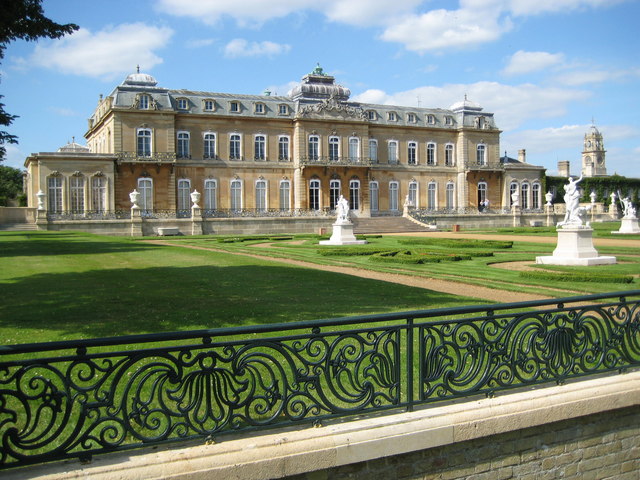 "Wrest Park is a very beautiful, great English country place, and we walked all about it this morning, while it looked its loveliest. The gardens, by Le Notre, of two hundred years ago, are its crowning glory — parterres of geometrical design, and terraces that lead off into the vistas through the woods, with basins of artificial water and pavilions reflected into them at the end. To one side an orangery is approached by terraced steps, behind which an astonishing yew hedge encloses a tangle of garden."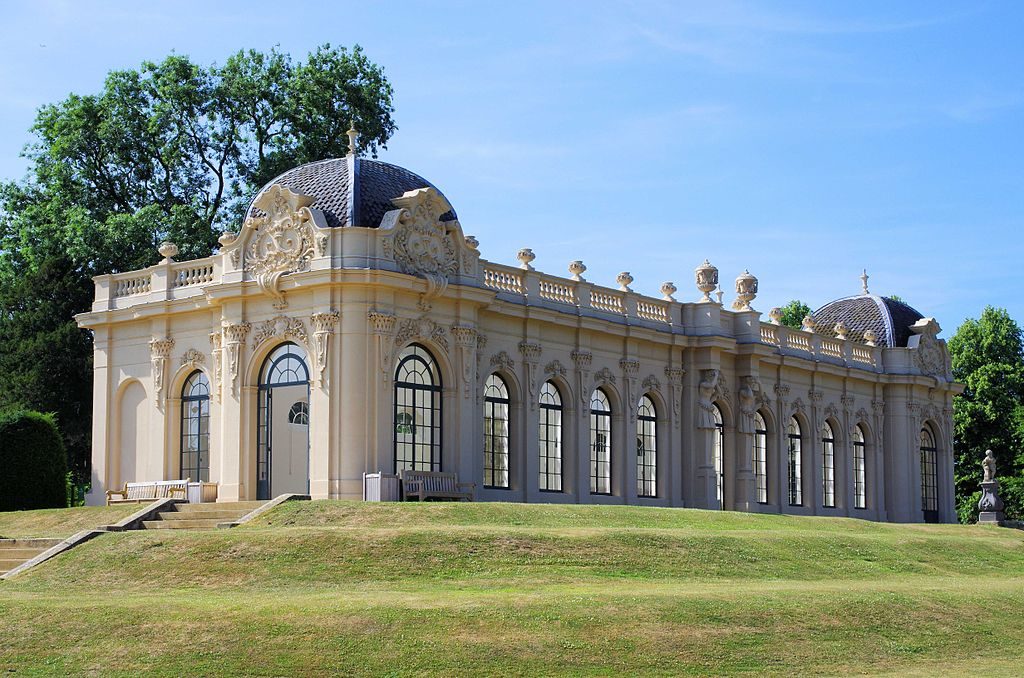 The Orangery
"Isabel and I walked on over a Chinese bridge that crossed the still water, through the gates into the park, and traversed the long smooth paths that railed across the smooth green lawn beneath the great gnarled trees, with quantities of deer browsing about, and sheep, and black cattle."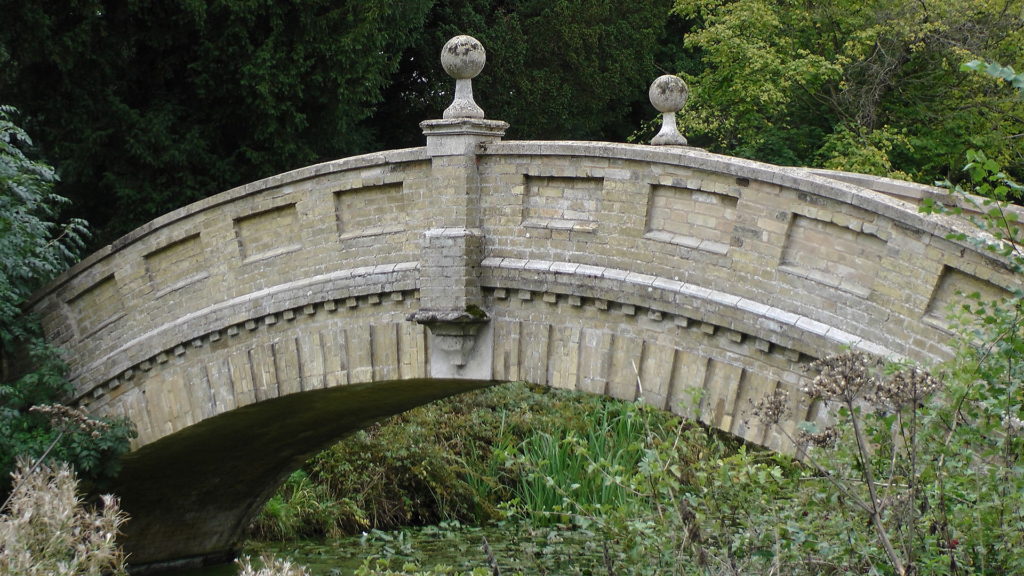 Chinese Bridge
"The house itself, while simple in general proportions, is rich in rococo decoration which isn't overdone, however, and inside there is a good deal of gilding, but rich and restrained. […] Our bedrooms have the most interesting and beautiful Chinese wall paper I have ever seen . . . and the full length portraits in the great double staircase hall are impressive and splendid."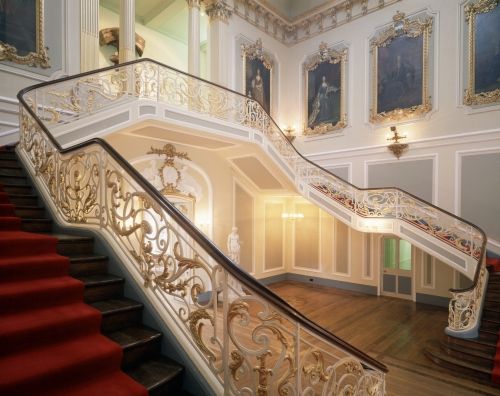 "I may say in parenthesis that it is poorly lighted and badly heated and that I think English house-parties most over-rated entertainment – but it is proving interesting to dear Isabel – even down to the detail that the valets and maids all go to their dinner in full evening dress!  –– But I am homesick for my simple life at home."
The guest list for the weekend hunting- and house-party included:
Charles Henry Brent, Missionary Bishop (Episcopalian) of the Philippines
Lady Rennell Rodd (Lilias Georgina Guthrie), wife of the British ambassador to Rome
Marquis Imperiali, Italian ambassador to the Court of St James
William Phillips, first secretary of the American Embassy in London
Elliott Bacon, son of American ambassador to France, Robert Bacon
»For a beautiful photographic tour of Wrest Park, please visit the Flickr album by photographer MK Matt.
You'll find much more about Larz and Isabel Anderson and their extraordinary life in:
Larz and Isabel Anderson: Wealth and Celebrity in the Gilded Age by Stephen T. (Skip) Moskey.
Available now on Amazon prime and from your local independent bookseller.
Photo Credits
All Photos from Wikimedia Commons, except for the photograph of the double staircase, which is via Pinterest.
Larz Anderson's journal entries are from Some Scraps. [Journals, 1888–1936.] 38 vols. Anderson Collection. Society of the Cincinnati; Vol. 15, A Mission to Belgium. Legation in the Palais d'Assche—Volume 1. Courts and Customs and Contretemps in Brussels [1911–1912]. pp. 82-84.