My copy of Presidents and Pies, by
Isabel Anderson (1920)
While I was writing my biography of Larz and Isabel Anderson, I discovered hundreds of  "rabbit holes" that, had I decided to go down into, could have added years to the time it took to write it.  (Rabbit holes have been described by one New Yorker writer as something that we pursue "to the point of distraction—usually by accident, and usually to a degree that the subject in question might not seem to merit.")  But these rabbit hole stories continue to intrigue me, and now that the book has been published, I've had more time to go back and explore some of them.
One of my favorite rabbit holes comes from my own copy of Presidents and Pies, which includes both an inscription ("For Mrs. Post with best wishes, Isabel Anderson") and a bookplate (Annie Edgerly Thayer):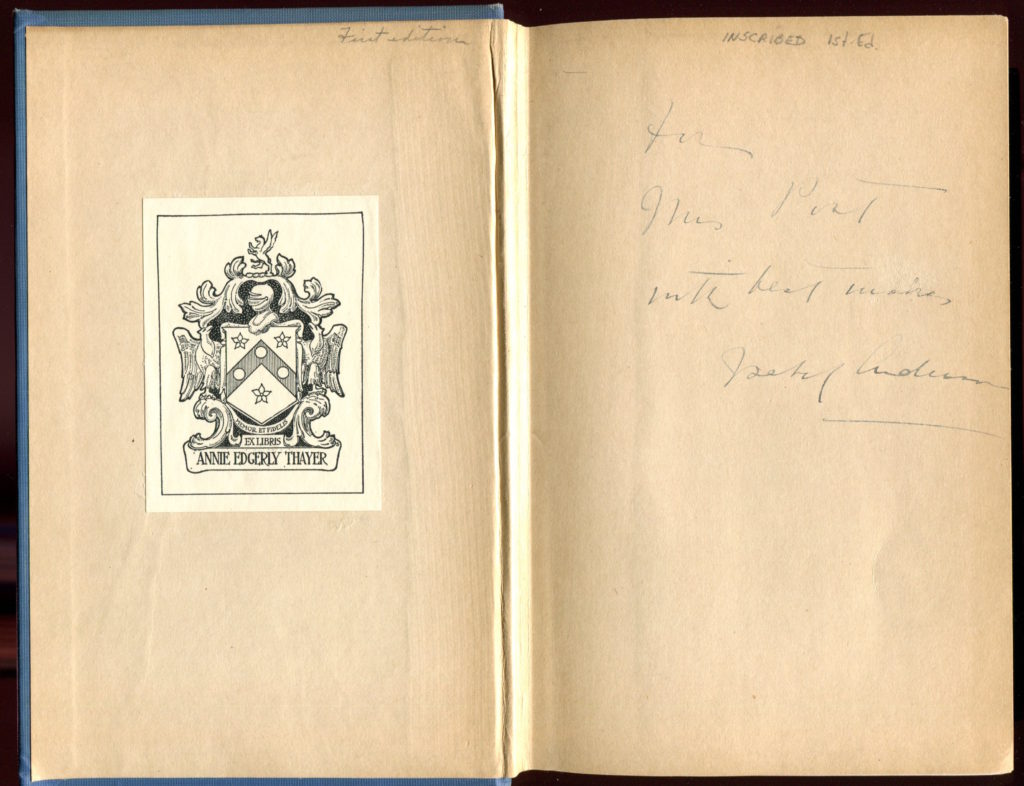 It was easy to identify Annie Edgerly Thayer (1870-1957; more on Mrs. Thayer below), but "Mrs. Post" was a bit more elusive. Post is hardly an uncommon name in the history of American elites. I eventually found Mrs. Post in the first place I should have looked: the index to Isabel's compilation of her husband's papers, Letters and Journals of a Diplomat.  I was thus able to identify Mrs. Anne Maxwell Post (1866-1942); trace the course of her life; and find a connection between the two women who had owned the same book.
Mrs. Post was born Anne Maxwell Pultz in New York City in 1866, and grew up in a house at 529 Madison Avenue that the family continued to occupy at least into the 1910s. The family travelled to England in 1886 when Anne was 20 years old and returned to the U.S. in 1888. She eventually returned to England, where she married Major James Clarence Post (1844-1896; U.S. Army Corps of Engineers) in London on April 21, 1892.  Major Post was Military Attaché to the United States Legation at London from July 3, 1889 to December 23, 1893. Larz Anderson was Second Secretary of the American Legation in London starting in August 1891, and this is without doubt how the Andersons and the Posts came to know each other.  Mystery solved!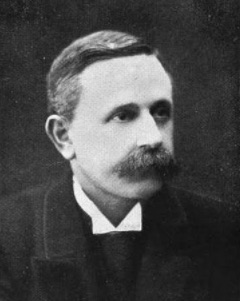 Major J.C. Post, probably at the time of his posting
to London
The Posts' marriage was to be tragically short. Major Post died less than four years after their marriage, on January 6, 1896.  Their son, Clarence Ely Post, was only a week old at the time of his father's death. As if that was not enough of a loss for the young widow and mother, Clarence died three years later in July 1899, in Narragansett Pier, R.I., while Mrs. Post was vacationing at the seaside town.
After the death of her husband and son, Mrs. Post continued to live at 529 Madison Avenue with her parents and brother, John Leggett Pultz (1877-1939), with whom she travelled abroad for two years beginning around 1902.
In 1920, the year that Presidents and Pies was published, Mrs. Post was still living with her mother Helen in New York City, though they had moved from Madison Avenue to 23 East 65th Street, a few blocks away. Her occupation was listed in that year's census as "Objects of Art/Own Account," suggesting that she may have had some connection to the art world.
By the early 1930s, Mrs. Post had left New York, perhaps because the stock market crash in 1929 had wiped out whatever assets she and her mother had. She moved to Boston, where she lived with two other women in an apartment at 78 Charles Street, near the Boston Public Garden. Rent was $105 a month; her co-tenants, a school librarian and a manager at the telephone company. Though there is no documentation, it is hard to imagine that Mrs. Post and Isabel Anderson would not have kept in touch during these years in Boston.  Mrs. Post did not have anything approaching a life of luxury: she worked in an insurance office at 100 Milk Street to supplement her husband's small military pension (which had been granted to her by Congress in 1914). She stopped working in 1941 at the age of 75, and died a year later.  She is buried with her husband and son in West Point Cemetery.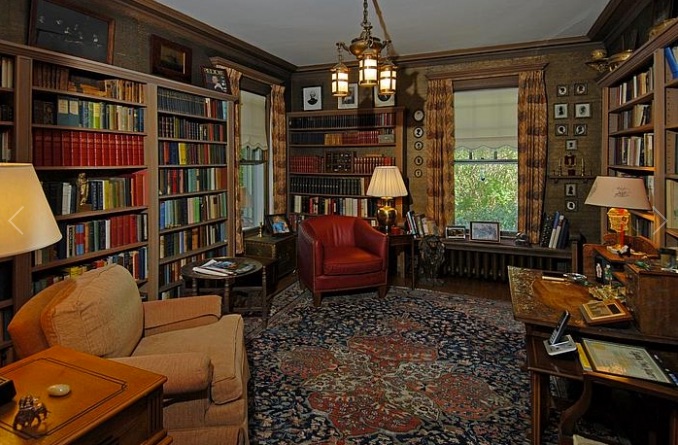 Mrs. Thayer's Library
Mrs. Post's copy of Presidents and Pies eventually ended up in the library of Mrs. Thayer's home, Thayercrest, in Farmington, NH, located, like Isabel's New Hampshire retreat, at the southern end of the Granite State. Built in 1915, Thayercrest's house and grounds have been preserved in what was essentially their original condition.
So, how did Mrs. Post's copy of Isabel's book end up in Mrs. Thayer's library? We'll never know for certain, but Mrs. Post and Mrs. Thayer were, like Isabel, both members of the Daughters of the American Revolution. Mrs. Thayer's Revolutionary War ancestor was from Massachusetts, and it seems extremely likely that the three women would have met at DAR events in the Bay State.
And how did this copy end up in my library?  In 2014, Thayercrest was put on the market by Mrs. Thayer's descendants. The furnishings and contents of the house most likely had to be weeded through so that the house could be staged for sale. Old books are always the first to go when a house is on the market.
I purchased my copy of Presidents and Pies in 2014 from a used bookseller in Maine. Thayercrest is 20 miles from the Maine state line.
«« ♦ »»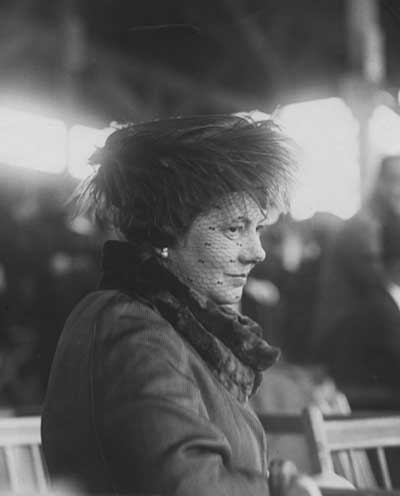 Mrs. Isabel Anderson, 1920, the year she
gave a copy of her book to Mrs. Post
There were hundreds if not thousands of similarly complex and interesting friendships in Larz and Isabel Anderson's lives. What's remarkable about her friendship with Anne Maxwell Post was that even before Isabel gave her the book, Mrs. Post was already living in straightened circumstances.  A New York socialite once listed in that city's Social Register finished out her life living with two other working women on the edge of Boston's Public Garden, but this surely meant nothing to Isabel. She continued to express her friendship for Mrs. Post by the gift of a book, and likely many other small kindnesses, and once again showed us her humanity and gave us yet another reason to never forget her.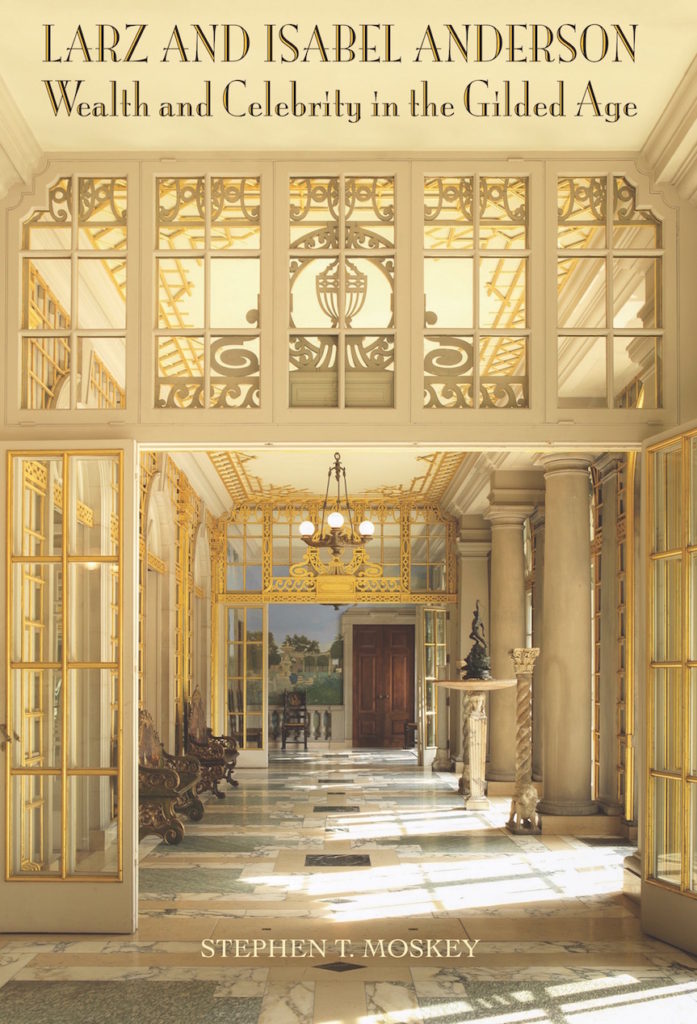 http://amzn.to/1VxLyMN