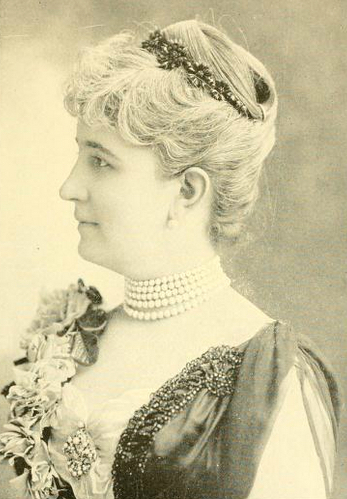 Bertha Honoré Palmer (1849-1918) was one of the greatest celebrities of the Gilded Age. She entertained her guests – including Larz and Isabel Anderson – lavishly at her homes in Chicago, Rome, and Florida.  Her husband, Potter Palmer, was a wealthy businessman who made his fortune in real estate and retail department stores.  One of his commercial real estate ventures, Chicago's Palmer House, became popular with elite travelers who traveled to Chicago in 1893 to attend the World's Centennial Exposition.  Mrs. Potter served as the President of the Exposition's Board of Lady Managers.  When she asked the chef of the Palmer House to create a special treat to serve at The Women's Building, he created a baked chocolate dessert that has become a staple of the American diet: The Brownie. The Palmer House Brownie is unique: there is no baking soda in it and after coming out of the oven, it is brushed with an apricot glaze.
Larz and Isabel Anderson dined with Mrs. Potter in Rome in February of 1899 when they were on their way back to the U.S. from a trip to India. In 1916, the Andersons again visited Mrs. Potter at her winter home on Osprey Point near Sarasota, Florida.  On seeing Isabel after so many years, Mrs. Potter exclaimed, "You look so young!  You look just like a little girl!"  Larz beamed and wrote in his diary that he was "so pleased and proud…."  Isabel was 39 years old at the time.
The next time you have guests, whip up a batch of Mrs. Potter Palmer's Gilded Age Brownies.  (Guests optional.)  They may even keep you young!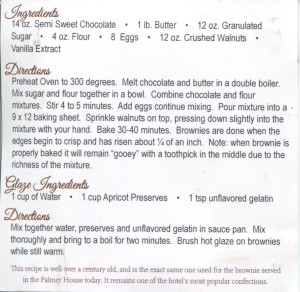 Learn more about the life and times of Larz and Isabel Anderson and their extraordinary Gilded Age lifestyle in Larz and Isabel Anderson: Wealth and Celebrity in the Gilded Age.  See the book trailer HERE and then order the book on Amazon.com.
Illustrations
Mrs. Potter Palmer, from The Congress of Women Held in the Women's Building
at the World's Columbian Exposition, Chicago, U.S.A., 1893
Brownie recipe, courtesy of The Palmer House, Chicago, IL