It's not polite to mention a lady's age,
but between us … Isabel is 141!
This post was originally published in 2016. Please scroll to the bottom of this page for updated information about the emeralds Isabel is wearing in this photograph.
Isabel Weld Perkins was born on March 29, 1876, during the year of the American Centennial. To celebrate her 2016 birthday in a special way, her biographer, Skip Moskey, worked with digital artist Lou Marino to create a colorized version of one of Isabel's most magnificent photos: her 1912 photographic portrait made in Brussels. She was posed standing in the Winter Garden of the Palais d'Assche in Brussels, which the Andersons occupied during the ten months that Larz served as American minister plenipotentiary to Belgium between November 1911 and August 1912.
Isabel's bespoke gown was created for her by the English dressmaker Charles Frederick Worth in Paris during the fall of 1911, while she was staying at the Hotel Ritz waiting for the Palais d'Assche to be readied for their occupancy.
Lou Marino had this to say about the process of colorizing Isabel's portrait: "I chose colors that I found in paintings from the period in which the original photo was taken. The colors for the gown, jewelry and folding screen were intensely researched along with the flooring and wall colors observed in the original photo location.  The pale skin tone and color were chosen to best capture her subdued appearance and demeanor. It was a pleasure working on this colorization which truly brings to life a vision of this remarkable, philanthropic and compassionate woman."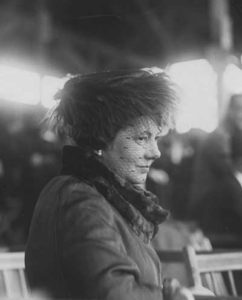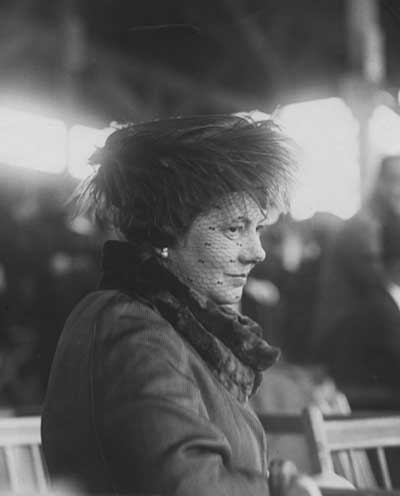 Wealth and Celebrity in the Gilded Age (book trailer)
Larz and Isabel Anderson: Wealth and Celebrity in the Gilded Age (book)
And here's some additional information about Isabel Anderson's emeralds:
For a copy of the estate inventory of Isabel Anderson's jewelry collection at the time of her death in 1948, including the emerald and diamond brooch shown in the photograph above, please click on the following link. The item described in the inventory as No. 47, "Three emerald and diamond pin" was appraised at $1,600, only a fraction of what Larz and Isabel paid for the emeralds in India in 1898.
IA.Jewelry.Inventory.1948.Annotated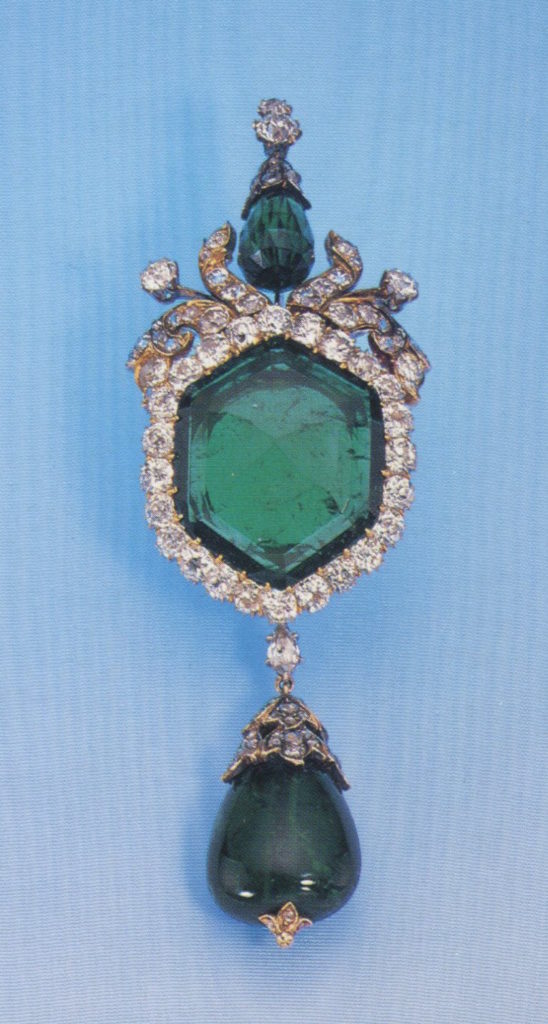 Credits
"Photographic Portrait of Isabel Anderson (Brussels 1912)"
by kind permission of the Larz Anderson Auto Museum, Brookline, MA
 "Colorized Photograph of Isabel Anderson, 1912," by Lou Marino, is licensed under a Creative Commons Attribution-NoDerivatives 4.0 International License.
"Wealth and Celebrity in the Gilded Age,"
a film by Joel Urbina, ShinyGoldShoes.com
Updated January 8, 2017.