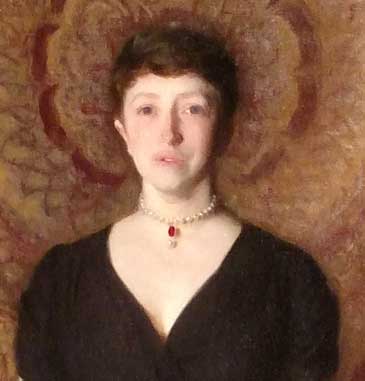 One of the Gilded Age's most celebrated personalities was Isabella Stewart Gardner, known affectionately during her lifetime by friends and strangers alike as "Mrs. Jack."  Isabella and her husband John L. "Jack" Gardner make several appearances in the new biography, Larz and Isabel Anderson: Wealth and Celebrity in the Gilded Age. The connections between the Gardner and Anderson families ran deep. Jack was a Harvard classmate of Nicholas "Nick" Longworth Anderson, Larz's father.  In 1865, the Gardners travelled from Boston to Cincinnati to attend Nick's wedding to Elizabeth Kilgour, Larz's mother. When the Gardners spent the winter of 1895 in Rome, they were frequents guests of Elizabeth Anderson at her Roman villa.
Larz and Isabel had their own friendship with the Gardners, who had a summer home, "Green Hill," in Brookline, Massachusetts, near the Anderson estate. The two estates shared many common features, including extensive greenhouses, formal gardens, and collections of Japanese bonsai.  In the early 1900s, Mrs. Jack agreed to help with a fundraising event, the "Persian Pageant," which was to be held on the Anderson estate to benefit a local hospital.  Things did not turn out exactly as planned, even though Mrs. Jack made a spectacular entrance wearing all of her famous jewelry.  You can read the full story in Larz and Isabel Anderson: Wealth and Celebrity in the Gilded Age (pages 86-87).
Isabella's famous 1888 portrait by John Singer Sargent is in the collection of the Isabella Stewart Gardner Museum.  It rarely leaves the museum, but in 2015 was exhibited at New York City's Metropolitan Museum of Art in its Sargent: Portraits of Artists and Friends exhibition – a rare opportunity to see (and photograph) the painting outside of its home on Boston's Fenway.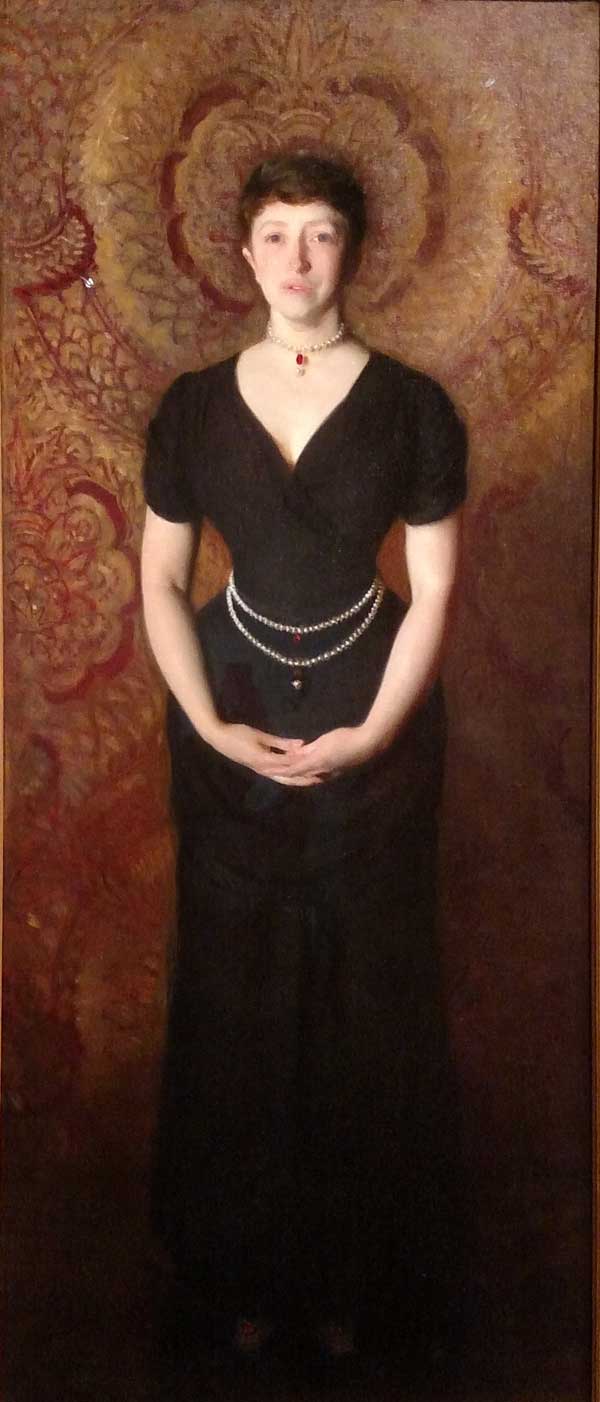 Illustration: "Isabella Stewart Gardner," by John Singer Sargent (1888)
Photograph by Skip Moskey, Metropolitan Museum of Art, July 2015.