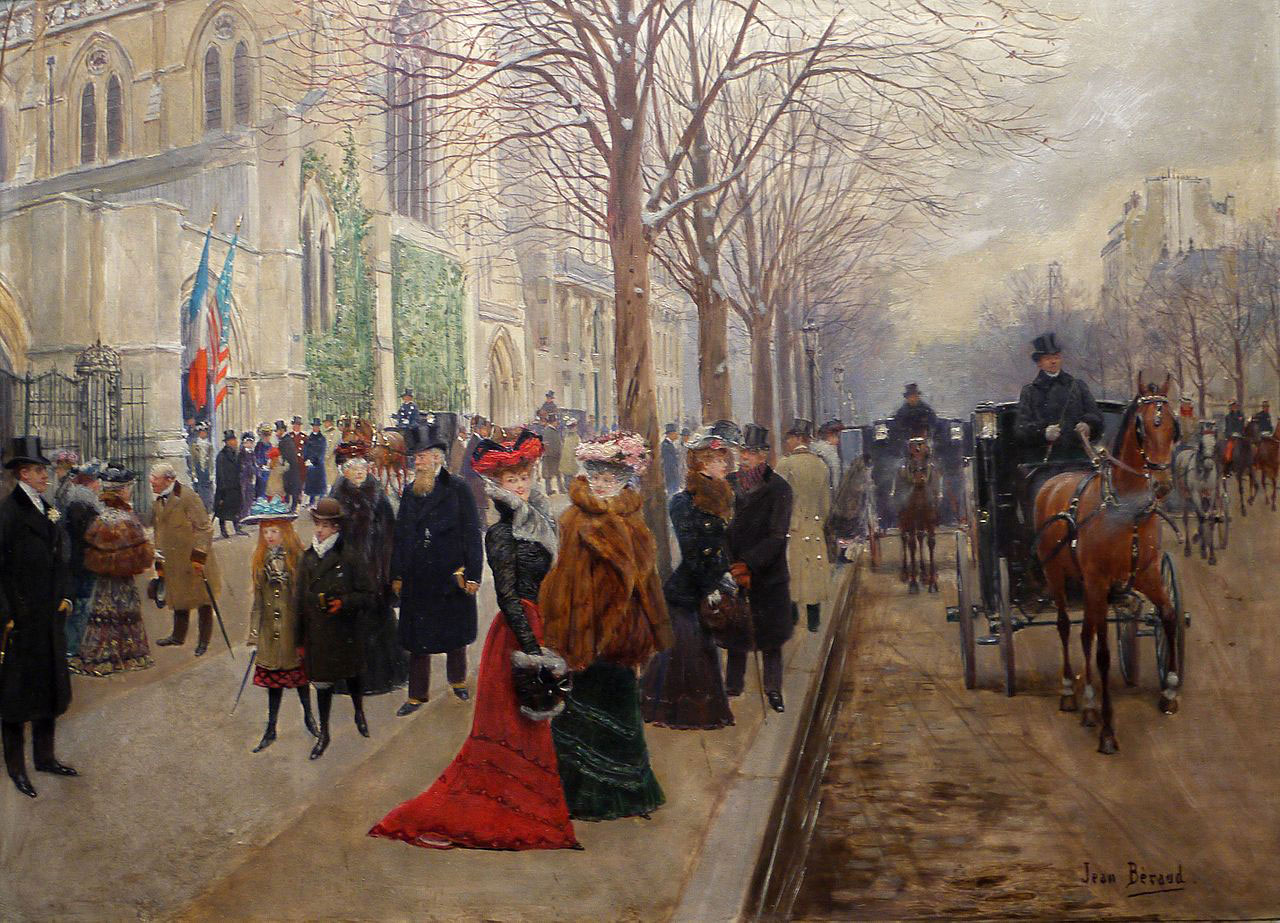 "Cathedral américaine de Paris" (ca. 1900) by Jean Béraud (1849-1935)
Larz and Isabel Anderson loved visiting Paris and often spent a few weeks at a time there on their way to and from other destinations.  When they were in Paris, they attended services at what is known popularly as the American Cathedral in Paris.
The American Cathedral of the Holy Trinity, as it is known officially today, is the Episcopalian church in Paris where Larz was baptized in 1866, where he attended Sunday school in the 1870s, and where he attended services with his godmother, Mrs. Evans, in the 1890s and early 1900s (Mrs. Evans died in 1914).  When Larz was baptized in 1866, the Church of the Holy Trinity was located on the rue Bayard.  It was that church building that Larz visited as a child and where he attended Sunday school. In visits to Paris during his adult life, Larz attended church services in the new church built in 1886 on avenue George V (then called the avenue d'Alma).  In 1922, the church became a cathedral.  In addition to serving as a parish church for Americans in Paris, it is the seat of the bishop in charge of Episcopal Churches in Europe.
On a visit to Paris in 1932, Larz fondly recalled the time spent in his youth and young adulthood at Holy Trinity:
"So I walked down to the Cathedral Church of the Holy Trinity where I used to go as a boy to Sunday school, and went in to see the pew where we used to sit, and the pew of my Godmother Evans, where I.A. [Isabel] and I had sat one day and in the pew rack had found a book with my name in it that had been there for years."
The cathedral is a magnificent example of Gothic Revival architecture in the heart of Paris.  Béraud's magnificent painting captures all the elegance and style of the American community in Paris at the turn of the last century.
It's not hard to understand why Larz so loved being an American in Paris!
The spire of the American Cathedral in Paris, seen from
the rue Marbeuf, the street where Larz Anderson was
born on August 15, 1866.
Illustrations
"Cathedral américaine de Paris" (ca. 1900)
by Jean Béraud (1849-1935).
Musée Carnavalet, Paris
Licensed under GFDL via Wikipedia Commons
Cathedral photo by Skip Moskey
Copyright © 2014. All rights reserved
(Digimarc® Guardian for Images)