Trinity Church (façade facing Copley Square)
Isabel Weld Perkins was born in Boston in 1876, at a time when the distinctive art, architecture, and landscape design of the Gilded Age came together to make Boston a city that rivaled Paris and Rome in its artistic qualities. Gracious homes, churches, and public buildings lined the grand avenues that stretched out from the old part of the city into the new districts and neighborhoods created to accommodate growth. Three of Boston's greatest structures of the Gilded Age were (and still are) located within a few blocks of what was once Isabel's childhood home at 123 Commonwealth Avenue.
Trinity Church (Episcopalian) on Copley Square, built in the mid 1870s, was designed by the American architect Henry Hobson Richardson, who chose John La Farge to plan the interior decoration, including four stained-glass windows. Though Isabel was raised a Unitarian, it's not hard to imagine that she attended weddings and other events in the magnificent building during her youth.
The Ames-Webster House at 306 Dartmouth Street just a few doors from Isabel's home was built around 1872. Its interiors included murals by the French artist Jean-Joseph Benjamin-Constant, and a stained-glass skylight by the American John La Farge. The art historian Christopher Carlsmith has written a wonderful article about the murals. You can learn more about the house, and see interior photographs, by clicking here.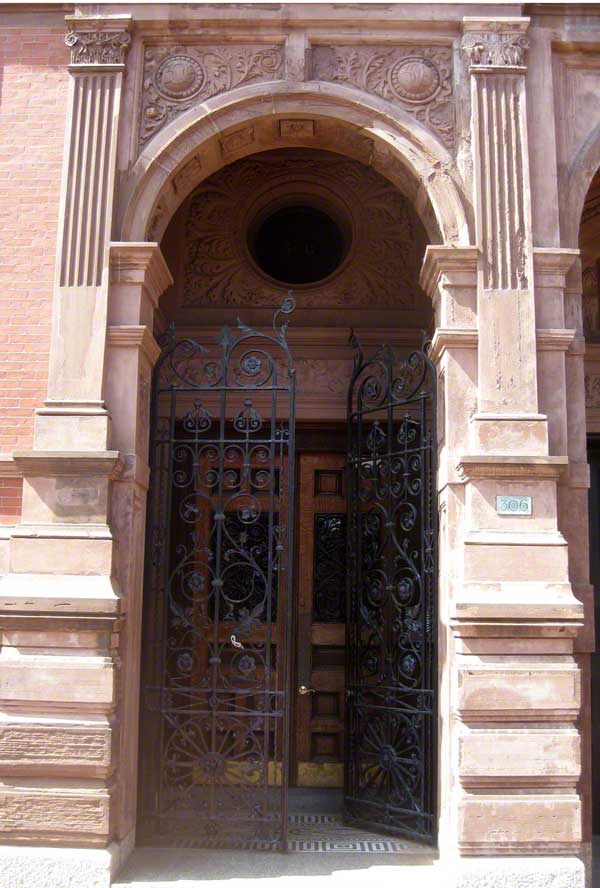 Ames-Webster House Entryway
The Boston Public Library was erected in 1895. Charles Follen McKim of the celebrated firm of McKim, Mead and White was the architect. The building is also known for its extensive murals, including those by John Singer Sargent and by John Elliott, husband of Isabel's great friend Maud Howe Elliott.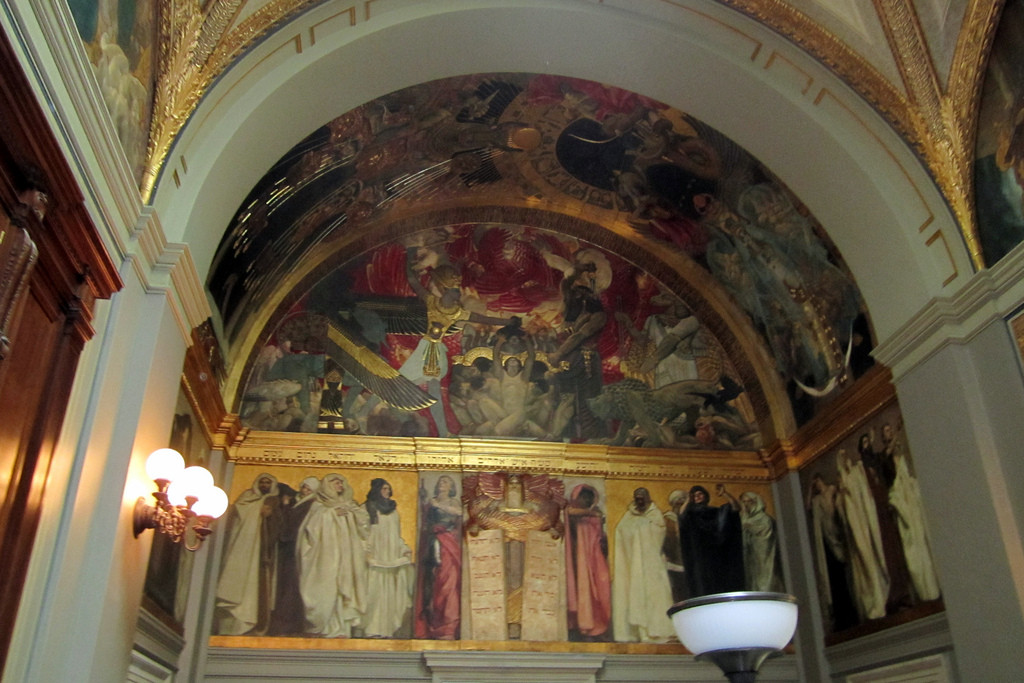 J.S. Sargent Murals, Boston Public Library (photo by W. Gobetz)
Some of the greatest architects and artist of the Gilded Age were freinds and acquaintances of Larz and Isabel. H.H. Richardson,Charles Follen McKim, John La Farge, John Singer Sargent, and John Elliott all make appearances in my new book about America's Gilded Age: Larz and Isabel Anderson: Wealth and Celebrity in the Gilded Age.  
Illustrations
Top: Detail of the Façade of Trinity Churchn
Middle: Doorway of the Ames-Webster House, 603 Dartmouth Street
Bottom: "The Prophets and the Israelites Oppressed," Boston Public Library, by John Singer Sargent
Top and middle photos © by Skip Moskey
Bottom photo © by Wally Gobetz, via Flickr